---
---
---
---
---
---
---
---
---
---
---
---
Little Siberia
In 1940, during the war, when Australia was looking for spies on its own territory and all aliens were under suspicion, the Atherton authorities discovered their own 'spy' — Nikifor Homenko, a Russian from Gadgarra, who had failed to register with the police as an alien. At the court hearing Homenko stated that he was one of the first to start a farm in Gadgarra twenty-five years before and he believed that he had long been naturalised. However, he was convicted as an alien and the generous 'presiding magistrate took a lenient view of his case', so that one of the pioneers of the area was not jailed as a spy but only fined a considerable amount of money. He was lucky that the local authorities did not dig deeper, as secret police reports of the early 1920s referred to him as a north Queensland representative of the Secret Seven, 'the most silent, militant and dangerous' pro-Soviet group in Australia. In 1940 Homenko made a fresh application for naturalisation and the local constable who had to interview him found that, although he had been living in Australia since 1913, Homenko 'has not a very good knowledge of reading or writing, he can read big print but his pronunciation is very poor'. To explain to the authorities how Homenko could have survived all these years without much English, the constable wrote: 'For a number of years he resided in a locality where there were several other Russians and he therefore used more of his native language than English'. To survive for twenty-five years in Australia without much need for English one needs to have a real community around.
In July 1996 I visited Bill Homenko, Nikifor's son, on his farm along the Gadaloff road. And, telling me about their Russian neighbourhood, he said, 'That's what they used to call this: "Little Siberia"'. But even he did not remember that it was Nicholas Illin who, in 1910, had founded Little Siberia in the heart of an Australian jungle.
Little Siberia in the heart of the Tableland jungle — a microcosm, like a small piece of Russia planted there by the whim of fate. With a patriarchal Nicholas Illin, and sharing a common vision with each other, there were twelve men in their twenties and thirties, seven women and over a dozen children. They came from all walks of life — peasants, workers, soldiers, professionals, office employees. They were of Russian, Byelorussian, and Ukrainian descent, and they came from all quarters of the huge Russian empire — from St Petersburg in the north to Tashkent in the south, from Volyn in the west to Vladivostok in the east. For some of them the route was via imprisonment, exile and escape, through the Far East, or Europe, or the Argentine. However hard their life in Russia had been, and however hostile the attitudes to them in Australia might be, they did not renounce their Russianness. Their children, even adopted children, could speak Russian and only lost their fluency in Russian after the death of their parents as none of them established contact with the new Russian community of so-called 'White Russians' that grew up in Australia after the revolution...
...
... We were sitting on a rusty cistern in the yard of Bill Homenko's farm. Bill's toil-worn hands were resting on his knees, his bare feet planted firmly on the land. His Australian slang and his wide-brimmed hat made him a real bushman, yet to me he seemed terribly familiar: I had met such old men when I travelled along Byelorussian roads looking for the roots of my own ancestors. Even Bill's yard itself — horses standing quietly by a hand-made post-and-rail fence, the old barn with a busy mouse appearing from time to time under the door, land muddy after the rain — seemed so familiar in a Russian way. All except the corrugated iron ...
And Bill led me into the time when Leandro lived next to him — 'That scrub you can see, it was Leandro's. There's no fence there. Scrub's a boundary from there to my boundary here, right through to Cairns track.' To the time when barefoot Russian children rode horses along the Gadaloff road, when he and his younger brother, John, were playing on the banks of Caribou Creek, which was now, like eighty years ago, quietly flowing on its way to the ocean. We were in the last outpost of the deserted Little Siberia and Bill Homenko was its last Mohican. The misty hills cleared of scrub behind him were the only reminder of three dozen Russians who once had settled this land. But could all the Russian hopes and despair with which they worked this land, the sweat and tears they poured over it, the love and pain that they experienced on it — could all that have disappeared without a trace? Although invisible, it was all here, a Russian layer in the little world of the Atherton Tablelands. And from here the threads of destiny of the Russians' descendants spread far away all over the world. It took the Prochoroffs back to Russia, some of the Illins to the Honduras and the United States of America, and all the rest, including Leandro's family, to different parts of Australia.
As I was leaving, Bill, with genuine Russian — or was it outback Australian? — generosity, gave me a bucketful of sweet tangerines ...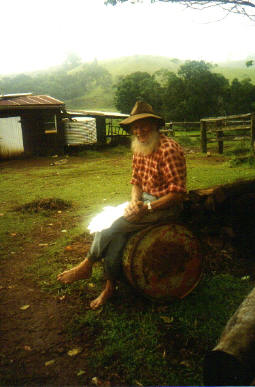 Bill Homenko on his farm, Butcher's Creek, 1996.