---
---
---
---
---
---
---
---
---
---
---
---
The Tolstoyan Diary
[Excerpt]
I look at the pages of this particular copy of The Tolstoyan Diary in my hands. The book has its own fate, too. This copy wandered with its author all over the world for a long time. Once, on learning about the death of Arakin, an enemy of his in Russia, Nikolai recorded between the lines of the book a sarcastic stanza on the death of the 'debunked scoundrel'. Otherwise, he hardly ever returned to the book, as his real life pushed his theorising of the past further and further away. And finally real life directly intervened.
There is an inscription inside the book in Romelio's hand: 'I apologise that this book is in such a poor state. When we were in Australia there was a cyclone, which destroyed our house, and these books have been damaged. That is the only copy that I have.'
The cyclone struck the Atherton Tablelands in March 1918. It carried away part of the book, the end part with the back cover, and threw it down somewhere on the ridges of Bellenden Ker. The remaining pages in a frayed cover made a new journey with the Illins to Colombia, Honduras and, finally, the United States of America. In January 1996 Romelio's son, Leandro, brought me a copy of these pages. He, who hardly knew Russian letters, carefully preserved this relic of his grandfather, not suspecting how his thought, his voice was crying out passionately on these pages and appealing to his descendants, to all of us: 'Listen to me, understand me'. The voice broke in the middle of a word on the missing pages and then again and again attempted to prove its case...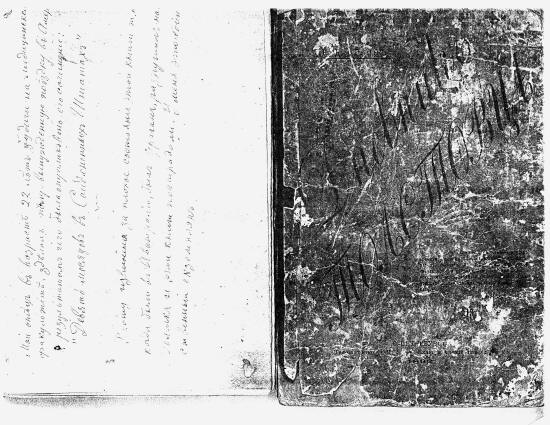 The Tolstoyan Diary with Romelio's inscription. Courtesy of Leandro Illin, Jr. (USA)